The blog post template provides a structured format when writing a blog post. Following a structure makes writing faster and more precise. When the leading questions are laid down from the start of the blogging process, ideas keep pouring in.
The Format of the Blog Post Template
a. Parts of the blog post format
The template is formatted as to how a standard article is written. It has three basic parts – in particular: Introduction, Body, and Conclusion. SEO additions were added as well. Such as Call-to-action and Links.
Headings and subheadings are included to force you to breakdown your paragraphs into multiple parts. Again, SEO prefers shorter paragraphs. It is because it works best for skimming readers.
b. Content
When writing, the first sentence covers the overall meaning of the paragraph. The next two to three sentences provide further explanation to support the first sentence. I believe that is a standard writing format.
There are prompts for every part which serve as guides during the thinking process. For example, when you are at a loss for words, write down whatever you think of. As long as it is related to the keyword. You can then fill in the sentence and complete the paragraph.
Another prompt included is the evergreen question: "What does it intend to solve?". "What's in it for me?". Those are the underlying questions that should be asked all the time.
c. Prompt for the reader to take action
The blog post format includes call-to-action and links prompts. This is to bring your reader to take the next step. That can either be subscribe or share. If the blog post is related to an ongoing promotion, then the CTA can be to buy or book.
Links are a plus for SEO. It can be a link to your other posts or an outside link. They can be further readings that your audience can do. Or your sources for your post.
Grab my free blogging workflow template
Blogging Workflow Template (Free)

You can use this to proofread your post
Hemingway Editor
I created a blog post format to help me write a post every time. Before this, I ended up staring at the screen for a long time. Not knowing how to start it. That used to be my pain. I was unable to start but once I got started, the blinking cursor keeps moving.
So I am sharing the blog post template to you. This will also bring efficiency to your thinking process. I hope you can fully use it and help you improve your blogging game.
Do you have a similar problem with me when it comes to writing? Let me know in the comments. What other pain points do you have?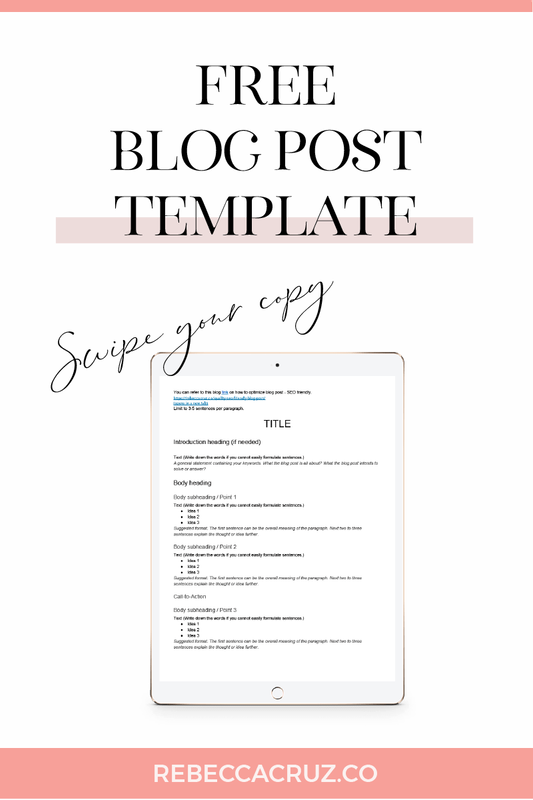 Please share this blog post with your friends and family.