Using the right font for your headings and graphics means so much in making that first 5 seconds of your potential audience count. It always in most cases attract a potential reader. Especially a graphic with the right font combination. In my quest for the right font for my site's headings and blog and social media graphics, I came across and downloaded so many stunning light script fonts. I like light script font because it is not screaming HEAVY but still with pretty eye-catching strokes. It is subtle and appears so free.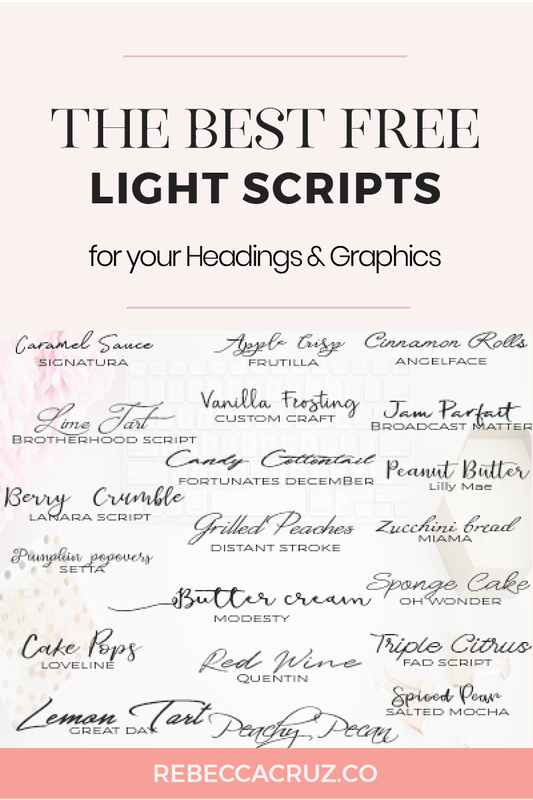 You can pair these script fonts with sans serif like Source Sans Pro, Open Sans, and Montserrat. It will make the text modern but with a little flair. I always post quote graphics to my Instagram account so I always mix my script font with sans serif. Put a little color then that's it.
These fonts are shared by their respective owners and only FREE for personal use. Please read the font details if you wish to download for commercial use. For demo font, please read the instruction and terms of use.
Light Script Fonts for Personal Use
Signatura | Frutilla | Custom Craft| Angelface | Fortunates December| Broadcast Matter | Brotherhood Script | Distant Stroke | Lanara Script | Lilly Mae | Setta | Miama | Modesty | Oh Wonder | Loveline | Fad Script | Quentin | Salted Mocha | Great Day | Scriptina | Stea | Janda Cheerful Script | Wilderness | Notera
How to download and install
Click the link of your chosen font below. You will be directed to the sites where the fonts are available for download.
Read the terms. Though I made sure at the time of writing that these light script fonts are free for personal use and not for demo only, it is still advisable to check the terms of use for each font.
After downloading, double click the zip file. Then click the TTF or OTF to install.
The installation will prompt for password of your admin but that is normal for every installation. Key in admin password then install.
You can read the Ultimate List of Blogging Resources to know where to download free fonts.
Useful readings:
Blog Design Mistakes Every New Blogger Makes and How to Avoid Them

The Best Free Blogging Workflow to Structure Your Blogging + Free Trello Board

Best Free Script fonts for Graphics and Headings. Learn where to find free font resources to use for headings and graphics.