To effectively narrow down a niche, we must know how to properly apply the process and be open-minded with the result. Lack of defined focus and narrowed down niche might be the number 1 reason why new bloggers cannot move forward and get the right results. Raising hands here! Even long-time bloggers get stuck at some point when trying to level up their game through narrowing down their niches.
To narrow down the niche and define focus, everyone says that you should be passionate about it and you are solving a problem of your audience. Definitely, you need the necessary skill set to be credible and give relevant solutions or answers or guides.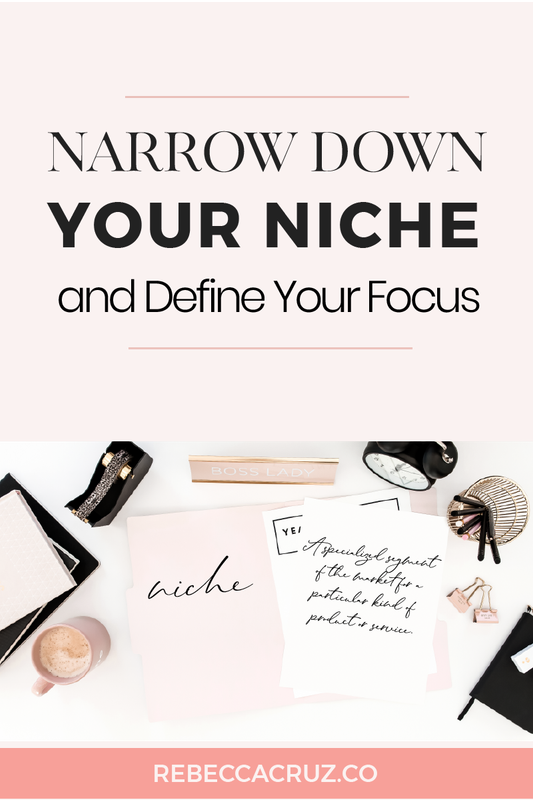 I had a hard time figuring out how to narrow down a niche at first. Perhaps subconsciously, I refused that I need to narrow down niche. I was stuck on this for a long time. When I finally understood the process, defining my focus was easier than I thought.
Similar to my experience, you might have read a number of posts and tried quite a few suggestions, following every step and answered every workbook there is. But! Still not feeling right. My husband even told me not to over-complicate things and move on. A financial person here! Analysis-paralysis.
Importance of a Defined Niche
When I started blogging on my other site, I just wrote about random things whenever I feel like it. I wasn't really serious about blogging until recently. This was because I didn't really have a strong sense of purpose and a managed system of creating content. Why? Because I couldn't zero in on what to write. I didn't have a defined focus to talk or write about. Fast forward to when I started taking blogging to the next level, I still stayed on that vague road of not having a defined focus.
Here are the things I was able to accomplish in ONE day after honing in on my focus.
Narrowing my niche put things into perspective.
With a narrowed down niche, I was able to craft higher-yielding activities that will benefit myself and my target audience. This means a defined and more strategic list of relevant content and a level-up campaign plans to lead to the third benefit, which is the financial side.
Knowing my focus drove my mind into thinking. Ideas just kept popping up. I was able to come up with specific topics and what to write about those topics specially. Because now I only think in the area of my defined focus.
Remember the days of endless researching? It is now put to good use. Because I just remembered the topics that I kept stumbling upon and the topics I fervently hoped were written more precisely.
More presentable and well-defined profile
Which I can put on my site and social media accounts without going through the refining process all over again and modifying on the spot. My profile is a lot clearer and specific compared to my previous one and I felt more convinced with what I came up with. I now have a well-put profile that clearly ties up with my campaign plans.
So what? A profile is the number one thing that your audience will look at and that is the crucial point of making them stay and want to see more or leave and look for a more promising profile.
Well-defined financial plan
Of course, I am an accountant and financial advisor. Business planning and controlling are my backgrounds. Naturally, the numbers will always be part of my decision and strategy. With a clearer campaign plan, I have identified more reliable sources of income. Lingering doubt on how is I able to sustain my site financially and live off of my business now have a definite answer.
So how did I narrow down my niche?
Here are some prompts which are helpful to narrow down niche. Before you do this, I encourage you to clear your mind of your IDEAL niche or profile or whatever it is blocking you from defining a genuine focus. Try to relate my thinking process to yourself and just answer as who you really are and not the ideal you. Profiling!
There are 5 steps but there are prompts for each step which will guide you on how to narrow down niche.
1 Know yourself FIRST.
Ok. This is so broad. Let's break it down into comprehensible questions. If a question is not applicable to you, try to answer just the rest of the questions. As much as possible, filter down to your top 3.
This first part is very important in filtering your focus which is critical and so helpful when you go to the second part.
a. Identify interests and topics that you are comfortable with
When I am at work, what do I enjoy discussing with my colleagues (during breaks) or to new acquaintances?
This excludes work-related stuff; unless, for instance, you are fond of excel and you like sharing excel tips to your colleagues outside of work hours. If you cannot determine what you enjoy, think of moments when you are getting so excited or when your voice is getting louder as you explain unintentionally.
When I am with friends outside work, what do I enjoy doing and talking to them about?
Some helpful note here. In what way will the first and second questions be different? Level of comfortability and familiarity. There may be topics in which you are more comfortable and less awkward to discuss with your friends or your colleagues or new acquaintances.
When I am alone or at home or have no plan for the day, what do I like doing or end up doing?
b. Find out what YOUR audience considers as your PASSION
What do people close to you or you interact with on a REGULAR basis
Think about you (asset, strengths, what you're good at)

Consider as your passion
They can be your family, close friends, colleagues.
What? How does that relate to my niche? Your family, friends, colleagues are your FIRST audience. Especially for a new blogger who doesn't have subscribers yet, getting their feedback or knowing their opinion about where you are good at is a solid starting point.
For a blogger who's been blogging for a long time, your audience's feedback matters significantly to your narrowing down your niche process. However, it would be good as well to get input from people who know you closely. Their voice might just be the deciding factor you are looking for.
2 Establish your super-user status (expertise)
To narrow down a niche, understand where you are credible and when you communicate most effectively. Getting this portion right is crucial in assessing your success in a specific niche. This is your authority. Meaning this is what you are good at.
If you are effective in a small group, potentially you can be as effective to a wider group.
a. Define your expertise and level of expertise
What information is always sought out from you?
This can also be answered when you go through Part b. Again this is very helpful for new bloggers who don't have reference yet on what expertise to provide to a specific audience. This prompt is a level up from part 1 prompt b.
What area or topic are you considered to be the number resource? In prompt b above, you may be good at baking but since you are not a regular baker, people come to you for answers after they have asked the person whom they consider an expert or super-user.
This is a ground-breaking section for me. This gave me "the why" I have been searching for and brainstorming about.
Since I have understood where I am good at, why not bring it to a wider group or audience?
b. Identify effectiveness through social media
What are the posts having the most likes or comments?
This means that your effectiveness is visible through your content on social media. Get the top 3 to 5 topics or groupings where you get the most impact. Base it on the number of impressions (views), shares and comments. Especially the "comments" because that means people are communicating with you on these topics.
3 List down your struggles
Here are some prompts which can help you identify your struggles.
What do you always search for online that you think is not yet fully answered?
With answers but not easily understandable?
With missing information or not transparent enough? Instead of giving steps 1-5, steps 1, 2, 4, and 5 were provided and step 3 was skipped. Something which you cannot do completely because there is an important step not included in the article.
What do you wish to have which can make things better? An example would be a library that connects all resources, an infographic that shows the flow from start to end.
This section gives you the content you can write about. It is also useful in drafting a campaign plan. Listing down your own struggles somehow prompts that there is a need for better content on these areas. Thereby, an opportunity and a slot that you can fill in.
4 Expand your Research to Narrow Down Niche further
What are the issues of your audience?
Now you connect your answers to your future audience or existing audience. Search sites that cover the niche or focus you have so far identified based on steps 1 to 3. What are the common issues or articles they post about?
Most likely, if you find a similar topic covered on a number of sites, then there is a market for that. It doesn't necessarily mean you cannot write about it anymore. You just need to put your own signature to it and make it your own.
Write it from your perspective and provide better or more comprehensible solutions.
What do they always ask? What do they search for? You can see those through Google Search. Just key in some keywords on Google. The existence of a number of articles on one topic means that there is a need for such.
5 Profitability and sustainability
Of course, is the niche you are leading to profitable?
Narrow further your focus by answering this prompt. This will give you a strategy on how you will brand yourself. Where do you want to spend your energy on that will give you more opportunities to earn? Are you going to offer physical products like prints or digital products only?
Can you create a course or ebook about it? Can you launch a series for opt-ins? Are you going to provide services on that specific niche?
Consider the DIY niche. There are a number of types in this field. I have seen quite a number of sites offering physical products which then went to put up a brick-and-mortar store plus an online store. A hobby or passion translated onto an income-generating passion.
A bonus point: If it is still hard to narrow down a niche, try grouping all your answers together. Design can include decor, DIY or vise versa. They are now your categories. Then start writing content for each category. You will notice that as you keep on writing, there will always be the topic that you prefer writing about than the others.
Take into consideration the views, shares, comments and likes that each post gets. That is an indication where you are communicating better to your audience. Stream down your focus as you progress. It will take time but always take the learnings from it.
Install and use analytics programs like Pinterest analytics or Google analytics. They will surely help in your quest for a well-defined focus and niche.
If you find this helpful and relevant, please share it.
"Narrow down niche and define focus to start creating relevant contents that will drive traffic to your site."
Read more posts to narrow down your niche from these incredible sites:
HOW TO CHOOSE YOUR BLOG'S NICHE + FOCUS by Melyssa Griffin