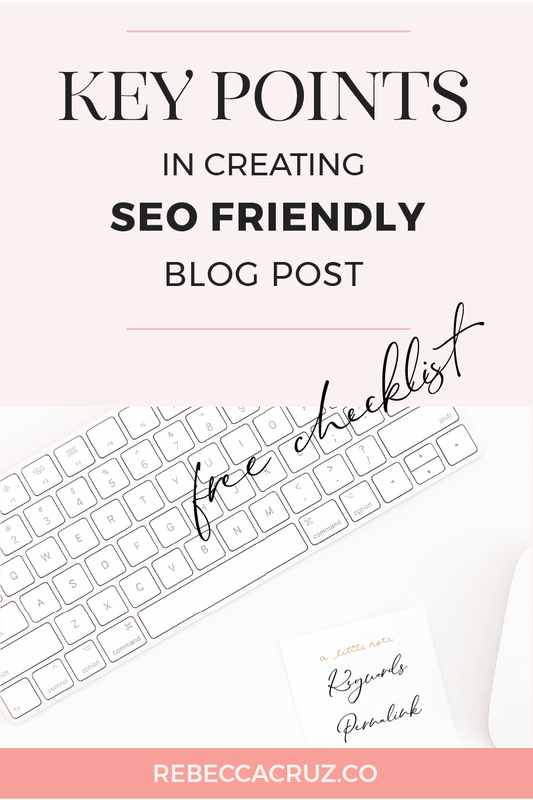 Creating a quality and SEO friendly blog post is important to drive traffic to your site. If you are new to blogging or on hiatus for a long time, you might not know anything about SEO. Believe me, I was clueless about SEO after a long time of not blogging.
SEO stands for Search Engine Optimization. Optimized contents rank higher than other similar content. This means it shows or appears more in search engines results. It also means that blog post is at the top most of the search result for that particular topic. That translates to more visits, clicks, and subscribers.
SEO is a lengthy discussion on its own, so let's focus on
some pointers to consider when writing quality and SEO friendly blog post
.
1. Use Keywords
What are keywords?
A keyword is a word or phrase that identifies your blog post's ranking in the search engine. It is the searchable word or phrase. To make it clearer, it is what people type to find your blog post. SEO friendly blog post ranks higher than those not optimized.
Tip: Determine the keywords before you start writing your blog post. This is to ensure that the post contains the keywords and you are not going off topic.
For instance, if you want to make cookie dough ice cream, you type in on Google "cookie dough ice cream" or "how to make cookie dough ice cream"
. Google then indexes blog posts about cookie dough ice cream.
a. Be precise and specific
Your blog post should have the right keyword. Use a word or phrase that will most likely be searchable. Consider using descriptive and strong adjectives that best summarizes your content.
If you are writing about how to bake a chocolate cookie, you can set your keyword as "quick chocolate cookie recipe"
. But make sure to write in complete sentence.
It should be something as precise and specific as it can get. What sets your content apart from other recipes out there? Why? This is one way to narrow down your competition. Choosing a simple and general keyword will bring your content to the last page of the search results.
b. Place keywords on searchable places
You should place keywords on the following:
the first paragraph or your introduction,
Notice that these locations are the first touch-points with your readers. The permalink is what they first see when they are searching. This is how a typical reader goes through searches.
Types the keyword, scans the results of the search, choose based on the title, meta description, and link, then click
.
Most likely, chose an SEO friendly blog post or the topmost result. Upon opening the blog post, read or scan the first paragraph, and headings. If they like what she reads so far, continues to read the whole blog post and clicks other blog posts on the site.
Keywords should be well visible throughout the blog post. An SEO friendly blog post has the right keyword density. What does this mean? Mention the keyword on different paragraphs but don't appear spammy. The recommended density is .5% to 2% of your word count. Spread the keyword throughout your content.
2. Include Headings and Paragraphs
a. Create a more fluid content flow through Headings
Use of headings breaks the paragraphs apart in a more reader-friendly structure. This provides the readers guide on how to read the blog post and what to expect from each paragraph. It is most helpful and appealing to readers who only scan the content. Headings direct them exactly to what they are searching for. In this case, you might get another repeat visitor or a subscriber.
b. Provide better content structure
Grouping the same thoughts or ideas together creates more comprehensible content. Determine the main topic for each paragraph. Then start each paragraph with an overview of the paragraph's main topic. Next sentences should provide further details which support the main topic.
Try to limit sentences in one paragraph to 3-5 sentences so it is easier to digest. Avoid flowery phrases that will lengthen your paragraphs and confuse your readers. Better provide a clear perspective or explain your topic right. If it is relevant then go ahead, write it as long as you are not repeating or rephrasing your sentences. Eight sentences are lengthy.
c. Focus on the main topic for each paragraph
Subheadings help further in breaking your blog post. I also find using headings and subheadings so useful when writing. Because subheadings help me with my thinking process. It forces me to concentrate my writing on what the paragraph is about. This serves as a guide, as well, when deciding whether to start a new paragraph or not.
3. Maintain the recommended number of words for SEO friendly blog post
Recommended least number of words is 300. I learned that for cornerstone articles, the least number of words is 900. So I guess better to write between 300 to 900 words. Limit your sentences to 20 words for a more user-friendly and SEO friendly blog post.
When writing a blog post in WordPress, the word count appears at the bottom part of the editor. I always refer to it so I can control my hand from nonstop typing. Why so? Google likes lengthy articles but the quality is still key. I may be writing much but losing track of the purpose of writing the blog post. That means I have buried the solution to a problem with all the irrelevant side comments or stories.
4. Use transition words
Transition words connect ideas and guide the reader as he reads. These give directions, comparison, and conclusion. Examples include first,
secondly
, but, because, and more. It provides more structure to your sentences and paragraphs.
Imagine a recipe without transition words. Well, you may end up with a disastrous or crumbly chocolate cookie if there are no transition words. The same thing applies to your blog post. Use of transition words results in a well-baked and well-received blog post.
a. Write a well-structured post
Quality content contains the introduction, body, and conclusion. Introduce your post on the introduction. Present the details and supporting information on the body. Finally, conclude by summarizing the key points of your post.
When I draft my blog posts, I open my Google docs and write in bullet all the key elements of my blog post. Afterward, I insert the parts above the bulleted points. I write Introduction, Body, Conclusion.
If I have an idea on how to present or start my blog post, I write it right away, where ever I am and whatever I am doing. It is because I always have a hard time figuring out how to start. Most often, I have better flow when it is impromptu than when I am actually thinking on purpose.
When I don't know how to start, I expand the bullet points. Refine them, form them into complete sentences. As I progress, I always get an idea about how to start it.
Lastly
, I make sure the ideas are connecting and not repeating.
b. Create Internal Links
Linking your posts create a cycle around your site.
By linking your blog posts to each other, you are telling Google that there are more relevant contents on my site which you can index for my audience
. Moreover, you are directing your audience on what to do next or where to go next on your site. It is like an invitation to dig deeper on your site. Making your site, even more, SEO friendly.
5. Optimize your Images
Save your images using your keywords. Replace the "image-00010101" or whatever with your keywords. Then utilize the Alt tags, description, and caption upon linking to your content.

Creating an SEO friendly blog post seems daunting but once you apply the basic principles of writing, you will be fine

.

With practice and continuous writing, it becomes easier to write an SEO friendly blog post

.

It is more effective to approach SEO using fundamentals of writing than being too technical about it

.

Learn how to write SEO friendly content that will bring your audience to your site.